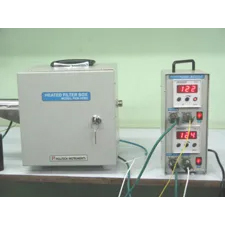 CREDENTIAL NOTES

Polltech Instruments Private Limited (formerly Polltech Instruments), Mumbai, India, is an ISO 9001:2008 certified company, which is dedicated to design, development, manufacturing and supplying of Air Pollution Monitoring instruments. It holds a position of eminence as a comprehensive solution provider for air pollution monitoring instrumentation and allied services. Its repertoire also includes Pressure & Flow instruments and Radon & radioactivity measuring instruments.
Versatility through Advanced Technology
Polltech Instruments designs and manufactures instruments incorporating state-of-art technology. These instruments are rich in features which make them extremely reliable, highly accurate, very user friendly and very budget friendly. The quality of products is at par with that of the most reputed international manufacturers of similar equipment. The performance to price quotient of our products far exceeds that of comparable national and international products. A long list of our overseas clients bears testimony to this fact. Polltech Instruments is proud of the fact that more than 20% of its sales of Air pollution measuring instruments are accounted for by exports to various foreign users.
The beginning
Polltech Instruments was incorporated in the year 1989. It was the culmination of coming together of Dr. P.K.Arora and Sharad Belekar, two highly motivated and enterprising individuals each of whom had made his mark in the field of science and technology.
Within a very short span after incorporation, Polltech Instruments was recognized as a designer, manufacturer and supplier of quality products pertaining to its chosen field of Air Pollution Monitoring instrumentation. Polltech Instruments is now recognized as pioneers in the field by the various pollution monitoring agencies. The products manufactured by Polltech Instruments are reputed to meet the most stringent requirements of compliance with national and international standards including those of US EPA and Indian Central Pollution Control Board.

Innovation and application of research-oriented expertise

Constant updation of knowledge and expertise through continuing research and development and translation of the same into innovative products has been the hallmark of the products of Polltech Instruments. The two founding partners have built upon their professional R&D expertise.
Dr. P.K.Arora, worked as a scientist in BARC, a reputed R&D organization, where he carried out pioneering research work in air (ozone) monitoring. He later went on to join a reputed organization where as Director R&D, he undertook design and development of a number of products with innovative features.
Co-founder partner Sharad Belekar holds a degree in Electronics & Telecommunication Engineering from Pune University. He worked in reputed organizations in various capacities in R&D and rose to become R&D Manager in a reputed pollution instrumentation corporate where he specialized in the design and manufacture of Gas Chromatography systems.
Range Of Products
Ambient & Work Place Air Monitoring Instruments
High Volume Air Sampler & Respirable Dust Samplers for SPM & RSPM

Ambient Fine Dust Samplers for PM 2.5 & PM 10

Low Flow Air Samplers for SPM, PM 10 (RSPM) & PM 2.5 PUF (Poly Urethane Foam) Sampler for collection Pesticides & PCBs Portable High Volume Samplers for collection of Particulate & Radioactivity Samples.

Low Flow Air Samplers for collection of Particulate and Organic Vapours using solid adsorption media.

Handy Air & Portable Air Samplers for Toxic Gases using Wet Chemical Methods.

Personal Air Samplers for SPM & Organic Vapours

Condensation Nuclei Particle Counter for measurement of Particle Density ( No. of particles / cc ) in Ambient Air

On Line Ozone Monitor for Continuous Measurement of Ozone in Ambient Air and Workplace using O3-Ethylene Chemi-luminescent reaction

Dust Fall Jar for measurement of Fallout Rate of Coarse Particulate
Stack Emission Monitoring Instruments
Automatic Stack Monitoring System for Online Isokinetic Sampling of Particulate matter, Moisture and Gaseous Sampling

Manual Stack Monitoring Kits for Isokinetic Sampling of Particulate matter, Moisture and Gaseous

Digital Stack Velocity Meter for online Measurement of Stack Velocity

Handy Velocity Kit for Digitally Measuring Pitot P & Stack Gas Temperature

Heated Sampling Probes & Heated Filter Box as accessories of SMKS for sampling of Particulate Matter (Method 5), SO3, Halides, etc

Volatile Organic Sampling System for sampling of Volatile Organic Compounds

Dioxane Furan Sampling Equipment for use with Stack Monitoring Kits (USEPA Method 23)

Sampling Equipments for Determination of Nitrogen Oxides ( NOx) from stationary sources (USEPA Method 7)
Sampling Equipment for Sulfuric Acid Mist Determination (USEPA Method 8)

Sequential Eight Channel Stack Gas Sampler
Pressure and Flow Instruments
Digital Pressure calibrators for calibrating pressure measuring instruments / gauges.

Static Pressure Pumps to generate pressure for use with Pressure calibrators.

Digital Pressure Gauges for Panel mounting (Din 96 x 96 ) with alarm settings for various pressure ranges

Pressure Transmitters for various ranges

Digital Air Flow Calibrators for calibrating rotamters and other flow measuring instruments using mass flow sensor.

Digital Air Flow Calibration System with interchangeable flow cell assemblies for calibrating rotameters and other devices using primary bubble detection method.

Digital Air Flow Calibrators for low flow rate using bubble detection technique.

Digital Orifice Flow calibrators for calibrating High Flow rotameters and other instruments using Orifice Flow meter.

Top Loading Orifice Calibrators for calibrating blower flow of High Volume Samplers.

Digital Flow Meters for measurement of flow of air and other gases.
Radioactivity & Radon Measuring Instruments
Alpha (ø) & Beta (ß) probes with Programmable Counting System

Radon Counting System Model for use with Lucas Cell for Radon & Thoron measurement in Uranium Mines / HBRA areas
Radon Bubbler for Radium / Radon measurement with bubbler stand

Twin cup SSNTD dosimeter

Constant temperature etching bath for processing SSNTD Films

Spark Counter for alpha track counting in SSNTD films

Software for computation of Radon and Thoron in Lucas Cell
Services
Calibration Services: Polltech provides Calibration services at site for calibrating various parameters viz. Pressure, Flow and Temperature of different air sampling instruments using highly accurate & certified digital calibrators with traceability to NPL, New Delhi. These services are particularly useful for certified ISO 9000 & 14000 companies.

Repair and Maintenance Services:

We offer both Annual Maintenance Contracts(AMCs) and on call maintenance services.
We offer these services for our own instruments as well as instruments of other manufacturers
Our Clients

All major industries such as Thermal Power Stations, Steel & Cement Industry, Chemical & Metallurgical Industry, leading Research Organizations, Pollution Control Boards & Environment Monitoring Laboratories.

Our Assurance

Polltech Instruments shall provide comprehensive support to our customers to enable them to carry out reliable monitoring of ambient air and emission sources to effectively control air pollution. This support will comprise of reliable and affordable instruments, efficient calibration support and dissemination of technical knowledge.
Our Mission

Polltech Instruments has long recognized the need for utilization of state-of-art technology for making the instruments rich in features which make it highly accurate, extremely reliable and user friendly to operate.
Living by its beliefs has enabled Polltech Instruments to reach its position of pre-eminence as a comprehensive solution provider for air pollution monitoring instrumentation and allied services. Polltech Instruments will strive to reach and remain at the very top position.
Our Vision

We shall continue to innovate and will strive to make further strides transcending all geographical barriers to be recognized as an international air pollution monitoring solution provider.

Future Plans
Polltech Instruments is poised for taking a big leap forward. In line with our policy of catering to the needs of Industry with our indigenously developed and manufactured products, we have, in the right earnest, already embarked on the development of on-line monitoring systems for monitoring of or NO/NOx,S02, CO etc. We are slated to announce the commercial availability of these products in the near future.
We have initiated efforts for equipping ourselves with the facilities for being licensed as an accredited test and calibration laboratory by NABL.